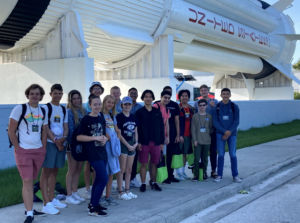 Northwest AEA-area students shown with some student colleagues on the first day of the International Space Settlement Design Competition at Kennedy Space Center near Titusville, FL.
SIOUX CITY, IA (Aug. 18, 2021)—
The International Space Settlement Design Competition (ISSDC) was held July 31st - August 3rd on the grounds of the Kennedy Space Center near Titusville, Fl. Northwest AEA coordinated the efforts to bring a group from northwest Iowa. ISSDC competitors work for 48 hours to win a contract from the Foundation Society to design and build a space settlement. This year's competition required a settlement to be built in the Hela Crater of Mars to house 18,000 workers and civilians and support terraforming efforts on the planet's surface.  
Over 300 students were split into four competing companies. Those companies were split into four different divisions: human factors and safety, automation, structure and operations, and marketing. Each company was given the same eight-page, single-spaced request for proposal (RFP) that detailed the requirements of the Foundation Society for their settlement.  
ISSDC blends science with engineering to essentially form a simulation of the industry environment as students race to meet deadlines, apply scientific principles, form working partnerships, develop project budgets and Gantt charts, and produce a winning design. Aerospace engineers and industry professionals act as advisors to the students and judges of the competition. 
This year's competitors hail from India, Australia, Canada, South America, Great Britain, and the United States. Northwest AEA schools were represented by students that qualified for the International competition by performing with excellence at the Midwest semifinal hosted by Northwest AEA. 
The competition is run by Aerospace Education Competitions (spaceset.org) and the National Space Society (space.nss.org). Iowa students included Kate O'Tool from Lawton-Bronson; Hudson Vonk of Sioux Center; Colin Houts and Reid Jansen of Sioux City West; Adeline Heilman of River Valley-Correctionville; Timothy Gibbs of Madrid; and Shekynah Haworth of Panorama-Panora.  Ms. Haworth was also the president of the winning company, Vulture Aviation.
### With offices in Sioux City, Sioux Center, Cherokee, Denison, Le Mars and Onawa, Northwest Area Education Agency (AEA) works in partnership with public and accredited private schools in a 10-county area of northwest Iowa to help assure that all children reach their full potential. The AEA provides special education support services, media and technology services, a variety of instructional services, professional development and leadership to promote school improvement. The Iowa General Assembly created the state's AEA system in 1975. It is widely regarded as one of the finest in the country. For more information about Northwest AEA, visit 
www.nwaea.org
.