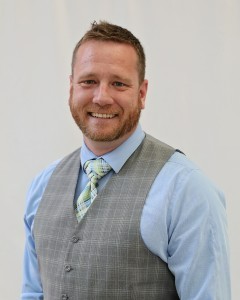 SIOUX CITY, IA (Oct. 1, 2021)—
Seth Piro
, executive director of special education at Northwest AEA, was named the 2021 School Psychologist of the Year by the Iowa School Psychologists Association (ISPA). Piro was recognized as an Iowa school psychologist "who has made a notable impact on their AEA, district, school, community, and/or students."
Theresa Dehn
, Positive Behavioral Interventions & Supports (PBIS) coordinator at Northwest AEA, nominated Piro and presented his award at the ISPA Fall Conference held on Oct. 1. She had this to say about him:
"I'm pleased to announce ISPA's school psychologist of the year, Seth Piro. As the one who nominated him, I will share my experience working with Seth, as I'm certain it echoes others' who work with him currently and in the past.
Seth has been an exemplary school psychologist throughout his career. When I did my internship at Green Hills, Seth worked there on the Challenging Behavior Team, and helped my school and team with many different challenging students. I learned how to take behavior theory and apply it in real time with Seth's knowledge and guidance. A few years later, Seth came to Northwest AEA in the role of regional administrator, and was my supervisor. He not only holds sound knowledge of special education, but also has a way of communicating and supporting teams, even in the most difficult of situations, with ease. 
Most recently, Seth is serving as the executive director of special education for Northwest AEA. He has helped lead the charge bravely to shift our AEA structure to better support MTSS implementation with a focus on systems change and coaching at all levels. 
Ultimately, Seth is a fierce advocate for what's best for kids. His integrity is clear, and he continuously strives to learn more and do better. 
Recently, I was asked to reflect on those in my professional life whom I've viewed as 'fearless'—blazing a trail, jumping in head first, taking the lead when needed—and what an impact those people have had on me as a professional. Without a doubt, Seth sits at the top of that list. 
Seth's dedication to the field, depth of knowledge, and leadership skills are significantly above average, making him the perfect recipient for School Psychologist of the Year.    
Please join me in congratulating Seth!"
###
With offices in Sioux City, Sioux Center, Cherokee, Denison, Le Mars and Onawa, Northwest Area Education Agency (AEA) works in partnership with public and accredited private schools in a 10-county area of northwest Iowa to help assure that all children reach their full potential. The AEA provides special education support services, media and technology services, a variety of instructional services, professional development and leadership to promote school improvement. The Iowa General Assembly created the state's AEA system in 1975. It is widely regarded as one of the finest in the country. For more information about Northwest AEA, visit www.nwaea.org.