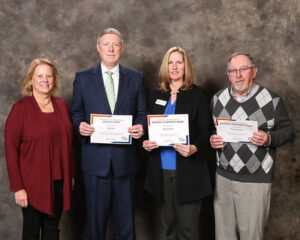 Dr. Dan Cox is presented a Better Boardsmanship Award with Northwest AEA board members Amy Jurrens and Roger Brinkert.
SIOUX CITY, IA (Nov. 18, 2021)—The Iowa Association of School Boards (IASB) presented the 2020–21 Better Boardsmanship Awards on Nov. 18 during the IASB Annual Convention in Des Moines. The awards are given each year to board members, board teams and superintendents/AEA chief administrators who dedicate time and effort to learning, advocacy, leadership and service projects to expand their knowledge and skills for better governance. Applicants must accumulate a specific number of credits to earn these awards.
Individual Achievement Award were presented to 73 board members from 38 K-12 school boards, three area education agency boards, including Roger Brinkert and Amy Jurrens from Northwest AEA, and one community college board.
In addition, Dr. Dan Cox was presented with an Award of Honor for investing time and effort to build skills and knowledge needed to be an informed decision maker. Other Award of Honor winners were Steve Barber, Atlantic; Mike Fisher, Charles City; TJ Schneckloth, Davenport; Laurie Noll, Fairfield; Steve Webner, Le Mars; Theron Schutte, Marshalltown; and Davis Eidahl, Solon.
###
With offices in Cherokee, Denison, Le Mars, Onawa, Sioux Center, and Sioux City, Northwest Area Education Agency (AEA) works in partnership with public and accredited private schools in a 10-county area of northwest Iowa to help assure that all children reach their full potential. The AEA provides special education support services, media and technology services, a variety of instructional services, professional development and leadership to promote school improvement. The Iowa General Assembly created the state's AEA system in 1975. It is widely regarded as one of the finest in the country. For more information about Northwest AEA, visit www.nwaea.org.