LMEliason Family Foundation Board makes another large gift to Northwest AEA in memory of Logan Eliason
Donations totaling nearly $100,000 have been given to the AEA since 2019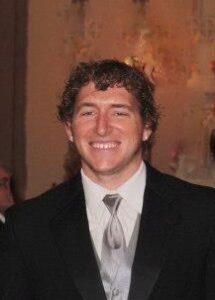 (Photo: Logan Eliason submitted by Pam Eliason)
SIOUX CITY, IA (Jan. 24, 2022)—
While growing up on an acreage near Salix, Logan Eliason attended Westwood Community School District, where he excelled in both academics and athletics. It was in school during second grade that he was diagnosed with a progressive hearing loss. This condition led him to the Area Education Agency (AEA) and their audiologists on a regular basis. 
"He disliked the tests because it was the one area in his life that he did not excel," said his mom, Pam Eliason. "He grew to love the audiologists who helped him through school, and he loved to keep them on their toes by memorizing the words on the tests so that it would appear that he was hearing better than he actually could." 
Despite his hearing impairments, Logan successfully graduated from Westwood. He went on to study at Briar Cliff University and Herzing University in Orlando where he earned a degree to become a physical therapy assistant. He returned to Sioux City and worked at local nursing homes where residents enjoyed his quick wit and professionalism. He aspired to become a physical therapist someday.
Unfortunately, that day never came. Logan was diagnosed with a brain tumor in 2011 at the age of 26. While that tumor was benign, another tumor returned in 2014. Logan made a second trip to the Mayo Clinic and had it removed. This time he was diagnosed with a glioblastoma, which is a very aggressive cancerous tumor. After enduring chemotherapy and radiation—and taxing medications—Logan passed away on June 18, 2015, at the age of 30, while in the care of a nursing home.
"His fortitude helped the staff at Embassy Rehab and his many friends and family fight harder every day," Eliason reflected. "There were about 35 loved ones with him on his last day. We should all be lucky enough to leave this world with such grace."
Sharing Logan's legacy is the mission for a foundation set up by his family and friends in 2017. The LMEliason Family Foundation has hosted numerous events over the years, including Log-A-Palooza concerts, golf tournaments, poker run events, and more. 
Northwest AEA has been very fortunate to be named the recipient of $99,800 from some of these fundraising events with the most recent gift of $27,000 given around Christmas last year. The gifts have been earmarked for hearing services.
"We love helping our AEA because it is our best option to help as many kids as possible in the same way Logan was helped," stated Pam. "No child should have to go through life with hearing issues that can be helped by having readily available hearing services."
The funds have been used to purchase a hearing booth, an audiometer, pressurized OAE for cochlea testing, and other hearing equipment. 
The audiometer equipment, for example, combines three different machines into one and can perform tests on babies or hard-to-test students. The machine evaluates the middle ear, pure tone, and speech. It allows more flexibility of testing when Northwest AEA employees are out in the schools because it is battery-operated. It has memory to store up to 1,000 different tests that can be uploaded once staff return to the office. 
"This is a huge leap in technology that Northwest AEA has been wishing for with an added bonus of a small size for portability," said Lynn Bernard, audiologist at Northwest AEA who worked with Logan in his early years. "It allows more hearing tests to be performed on children in Northwest Iowa."
The remaining funds in Logan's memory will be earmarked for a new hearing booth in Sioux City when the AEA moves to its new location by the Sioux Gateway Airport, projected for next fall or winter. The booth will provide access to families in the area who need hearing tests for their children; thus, assuring earlier detection of possible hearing loss. 
Eliason says they are determined to honor Logan's legacy by giving back to the agencies that gave so much to him.
### With offices in Cherokee, Denison, Le Mars, Onawa, Sioux Center, and Sioux City, Northwest Area Education Agency (AEA) works in partnership with public and accredited private schools in a 10-county area of northwest Iowa to help assure that all children reach their full potential. The AEA provides special education support services, media and technology services, a variety of instructional services, professional development and leadership to promote school improvement. The Iowa General Assembly created the state's AEA system in 1975. It is widely regarded as one of the finest in the country. For more information about Northwest AEA, visit 
www.nwaea.org
.