The Career and Technical Education program connects careers with education. CTE broadly encompasses six service areas: agriculture, food and natural resources; applied sciences, technology, engineering, and manufacturing; business, finance, marketing and management; health science; human services; and information solutions.
Career and Technical Education in Iowa
On May 26, 2016, Governor Branstad signed into law House File 2392, setting a new vision for students in Iowa to graduate from high school ready for college and career training. The legislation was built upon recommendations released by the Secondary Career and Technical Education (CTE) Task Force and marked the first major revision to CTE policy in Iowa since 1989. The legislation focused on building Iowa's talent pipeline so that more Iowans would have quality career education and opportunities thus supporting the Future Ready Iowa goal that 70 percent of Iowans in the workforce have education and training beyond high school by 2025. This work, along with the Iowa State Perkins V Plan, lay the framework for Iowa Quality CTE (IQCTE).
Career and Technical Education (CTE) in Iowa includes educational programs offering a sequence of courses that prepare individuals for employment in current or emerging occupations. Programs include competency-based applied learning, which contributes to an individual's academic knowledge, higher-order reasoning and problem-solving skills, work attitudes, general employability skills, and occupational-specific skills.
At the secondary level, CTE programs are organized within six broad service areas, as defined in Iowa Code section 256.11, subsection 5, paragraph "h."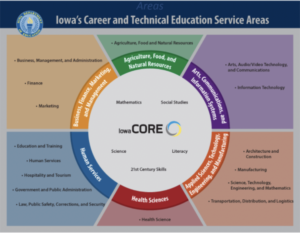 Service Areas:
Each service area has state approved standards as of 2019.
State law requires schools to offer 4 of the 6 service areas to their students under Chapter 12 "offer and teach" requirements.
There are 3 units of instruction required for each program of study. One unit of instruction may be shared between programs.
Teachers must have a CTE endorsement in the area they are teaching.
If your district is adding a new CTE program offering, please use the New Program Notification Form to inform consultants at the Department of Education.
Program Approval is completed on a five year rotating basis in Region 4 and 12. The schedule for Program Reviews requiring the completion of Self-Studies is below:
2021-2022 Health Science (will be submitted to DE Nov. 2022)
Law, Public Safety, Corrections, and Security & Fire Science
__________
2022-2023 Agriculture, Food, and Natural Resources:  (submitted to DE Nov. 2018)
Ag Production
Ag Business
__________
2023-2024 Applied Sciences, Technology, Engineering, and Manufacturing: (submitted to DE Nov. 2019)
Architecture and Construction
Manufacturing
Transportation, Distribution, and Logistics
Science, Technology, Engineering, and Mathematics
__________
2024-2025 Human Services: (submitted to DE Nov. 2020)
Education and Training
Human Services
Hospitality and Tourism (Culinary)
Government and Public Administration
__________
2025-2026 Business, Finance, Marketing, and Management & Arts, Communication, and Information Technology (will be submitted to DE Nov. 2021)
Business, Management, and Administration
Finance
Marketing
Arts, Communication, and Information Technology
Arts, Audio/Video Technology, and Communications
Information Technology
Below are some resources provided by the Department of Education to assist with this process:
Additional Perkins V Sources Districts May Need:
Advisory councils provide meaningful feedback to educators on the design, implementation, evaluation, maintenance, and revision of program curriculum and training equipment.
Comprehensive Local Needs Assessment
Perkins V introduced the requirement for districts and consortiums to complete a Comprehensive Local Needs Assessment (CLNA) every two years. 2020 was the first year this process was completed. In the spring of 2021 Iowa CLNA Regional Phase Worksheets were completed within each of our Regional Planning Partnerships. 
They are linked here for your review: RPP 4 RPP 12
Work-Based Learning
Work-based Learning is now one of the performance measures our CTE programs are accountable for under Perkins V.  It is an essential component in the 21st century classroom. It provides real-world, hands-on work to students and supports the relevance of classroom lessons. Work-based learning not only enables students to explore and engage with various careers, it teaches them the all-important professional skills needed by industry.
SCED Codes for Perkins V: Work-Based Learning
Getting Started with Work-Based Learning
The suggestions listed below are intended to provide ideas for districts wanting to get started in WBL. It is not intended to suggest that a district must do all of the things listed.
Maximize student

Individual Career and Academic Plan (ICAP)

in your district

Connect with your Intermediary

for work-based learning activities in your region

Take advantage of the

free, on-demand career videos

to enhance classroom learning. All of the career videos are connected to career and technical education standards

Consider who will

coordinate work-based learning activities

at your school

Connect your teachers to authentic projects through the

Clearinghouse for Work-Based Learning

Review the

Iowa Work-Based Learning Guide

Start an apprenticeship program at your school
Registered Apprenticeship Playbook - A guide to understanding the different components of apprenticeship programs.
Earn and Learn Iowa Website - Provides information on how to start an apprenticeship program.
High School Internships
Internships provide students with a hands-on opportunity to develop career and professional skills with an industry partner in a workplace setting.
For the most recent and up-to-date information from the Iowa Department of Education, please visit:
https://educateiowa.gov/adult-career-comm-college/career-and-technical-education